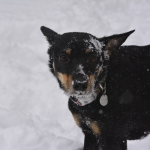 During the winter season as the weather worsens remember to know the limits of your pet –
If you see shivering, whining, barking, unwilling to walk, anxious, slows down, lifts one or two paws, becomes lame, seems weak or dazed, get them inside!
Age – young and old.
Haircoat – wear coats/booties!
Health – heart disease, cushings, arthritis, diabetes, thyroid, kidney disease have more trouble regulating their temperature and may respond poorly to cold.
Length of legs (yes) – tummies contact snow.
Shortened walks may make pets lose muscle tone and conditioning. Provide options/creative ways to keep pets healthy in cold weather – we have a land treadmill and UWT here, or play games indoors – hide treats, fetch, walking over rolled up towels, on couch cushions on floor…
Coconut oil for dry flakey skin (1 tsp for a 20# dog, 1 tbsp for dogs >50# – even cats may like a little) and don't overbathe in winter – use Murphy's oil soap to keep skin oils intact. Joint supplements are more important in cold weather. Omegas and turmeric, even a little cinnamon for warming.
Make noise when you start your car (cats find car engines warm places to sleep at night) – honk the horn, bang the hood, check under your car!
More pets get lost in winter! Ice and snow can affect sense of smell/landmarks – pets can get lost more easily. Be sure you have a microchip and collar on your pet!
Use Pet-safe de-icers on your sidewalk and stairs. Try to use booties/musher's wax on feet. If they are barefoot on sidewalks with street salt — wipe down paws after walks – salts can be toxic if they lick up too much.
Don't leave pets in a cold car!
Avoid going near frozen ponds/rivers/lakes, dogs can break through ice.
Pets burn more energy keeping cold. Good quality food with plenty of protein and fat, and LOW carbs keep bodies healthy and thermoregulating well. I like animals in winter to have a little extra fat on them, and I like them thinner in the summer. Not significantly overweight, just enough to keep warmer.
Make sure sleeping place is draft-free, safe and comfy. Offer options.  Be aware of Carbon monoxide – check your furnace and put detectors up and regularly check batteries.
Feel to print a copy to keep on hand.  Have a safe winter!