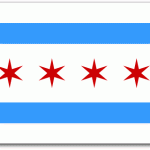 To promote the City of Chicago's dog license program, City Clerk Susan Mendoza is launching Chicago's first "Dog of Distinction" Campaign contest through March 31, 2012.  All dogs registered with the city since May 16, 2011 through March 31, 2012 are automatically entered to win.
On April, 5 dogs will be chosen at random to compete via online poll for the honor of being the Dog of Distinction.  The public will be able to vote online, the grand prize winner and all finalists will receive great prizes from local sponsors.
Registering your dog with the City is important for many reasons and all dogs over four months of age must be registered.  A portion of the fee from each registration provides funds for Animal Care & Control, the tag provides additional information used to find your pet if they are lost, and the registration is required for entry into the Chicago park district's dog friendly areas (separate permit required).  Registration is also required prior to bringing your pet to a facility that boards or provides daycare services.
To register your dog for the City of Chicago Dog License please click here.