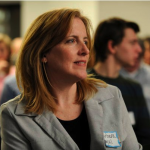 As many of you know, I am the President-Elect for the American Holistic
Veterinary Medical Association. If you make a tax-deductible donation to
the American Holistic Veterinary Medical Foundation's (AHVMF) 'Be One
in a Million Project' by March 17th, your donation, big or small, will be
tripled!
The AHVMF is funding all types of holistic awareness including:
• Research into nutrition/raw foods
• Integrative medical research
• Integrative programs at veterinary schools
• Student scholarships
• Educating traditional veterinarians and improving communication with
the AVMA. (For example, there was recent success in stopping the AVMA
motion against Homeopathy.)
Last year, we raised almost $400,000 and that money is beginning to make a
difference in how holistic veterinary medicine is being viewed worldwide.
Link to donate:  http://foundation.ahvma.org
AHVMF Phone Number: 530-926-9895
Whatever amount, big or small, is a tremendous help!
Thank you,
Dr. Royal