Posted on January 7, 2013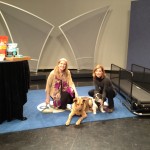 Dr. Royal will be interviewed on WLS Channel 7 News on Monday, January 7th at 11am!  Be sure to tune in and watch Dr. Royal as she discusses alternative pet therapies owners can do to improve the health of their pets!
Update – The segment was a huge success!  Our pet stars Henry & Midge are now local celebrities (don't let it go to their heads!).   You can see the full segment on the WLS Channel 7 News Website.