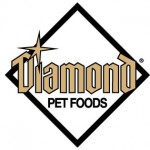 Diamond Pet Foods has issued a recall on dry food formulas produced for multiple brands at a Gaston, South Carolina facility between December 9th, 2011 and April 7th, 2012 due to possible Salmonella contamination.
Salmonella infection is more of a concern for pet owners themselves, who are more likely to become infected from handling uncooked food like raw chicken than their healthy pets.
This contaminant may be of concern for your pet if he or she is not well, or has a weakened or compromised immune system (immune disease, cancer, chemotherapy treatments, etc).  Discontinue feeding any food with the production codes listed and return the food.
Take precautions with any pet food, wash hands thoroughly, and don't eat the food yourself (no matter how yummy the kibble appears).  Most dogs and cats have a better ability to digest foods with Salmonella and handle these types of bacteria than we do.
At this time, no raw food diets have been affected.