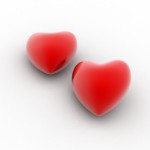 Happy Valentine's Day to all of our dear clients and their pets! Try this delicious pet-friendly cupcake recipe at home today for your furry valentine!
Royal Treatment's Valentine's Day Dog Treat Recipe:
Start with a greased (olive oil) heart-shaped ice cube tray
Combine
1 Cup of Pureed Meat baby food
½ cup of Cooked oatmeal
¼ cup of plain yogurt
¼ cup of canned pumpkin
Fill the ice cube tray cups. Freeze 6-12 hours.
Frosting:
¼ cup plain yogurt
¼ cup cream cheese
Several drops of Red vegetable food coloring, beet juice or pomegranate juice
Whip these ingredients together. Frost the treats.Put back in the freezer for a few hours.Serve them frozen to the love of your life, your pet.
Happy Valentine's Day!