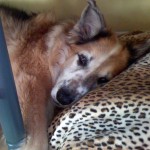 Rex began seeing Dr. Royal over two years ago, when he was 13. His arthritis had reached the point where we noticed he was no longer running, and occasionally he would even limp. Dr. Barb put Rex on a course of acupuncture and underwater treadmill therapy. We saw results literally within two weeks — he began running again, and his whole demeanor changed. He sprung back to life. He even began to tolerate, and actually accept, the existence of his obnoxious, 1-year-old Shepherd/Golden mix younger brother. Rex was not too keen about that addition to the family, having been the solo dog for 12 years. (Rex is still firmly convinced his younger canine brother is really an alien from another planet.)
Rex is one of those dogs who's always going to be a puppy no matter what his age. You can see it in his face and eyes (and really, who doesn't feel that way about their dog). Dr. Royal has dramatically improved Rex's quality of life and has helped give us some wonderful extra years with Rex we may not have enjoyed had we not made the decision to see her. There are only a handful of veterinarians I know with the level of caring Dr. Royal shows.
Dr. Royal's staff is as phenomenal and dedicated as she is to her patients. Actually, the word phenomenal does not even do them justice. Alex, Jessica, Veronika, and Zoe are each absolute superstars in their own right and any business could only dream of having such a dedicated, caring and professional staff as Dr. Royal enjoys.
And though there was humor injected into this testimonial, make no mistake about Dr. Royal's seriousness when it comes to providing the absolute best, professional veterinary care possible for a pet, and how much she invests of herself and her expertise into the care of your beloved pet.