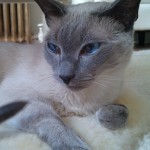 In December 2008, my six year old Siamese cat was dying.  "Yin" was very thin, listless and in pain.  Her last diagnosis was pancreatitis, but, I had taken her to three vets over a three month period and gotten as many diagnoses. Treatments changed with each new theory and she continued to go downhill fast.
Two weeks before Christmas, a healer told me that Yin was going through organ failure and would be "dead in less than two weeks".
Those words felt like they could be true and I thought I must begin to let her go.  My desire was to make my cat as comfortable as possible and support her movement in any direction she chose–life or death.  I sat down at my computer and googled "Cat+Acupuncture+Chicago."  I saw Dr. Royal in a YouTube video doing cat acupuncture.  Her depth and connection comes through in that video and I knew she was the healer I was looking for.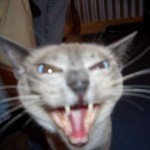 On our very first visit, my hopelessness lifted. Barb didn't make any pronouncements about my cat's fate, but, she was so present. She brought all her training, focus and passion to bear on our situation. I felt like she put all the former diagnoses on the shelf and started fresh. We began daily antibiotics and weekly acupuncture. Within a few days, Yin began to shift. Within a week, her pain was seeingly gone. When her appetite was still lagging, Dr. Royal showed me how to feed her with a syringe. That worked like magic getting her interested in food again.
Today Yin is back to normal weight, appetite and activity. We still see the doctor for an acupucture tune up every few weeks. I am so grateful to have met Barb and to have my sweet pea under her care.
Lisa Rogers